IR Spectroscopy 
Absorption of infrared radiation brings about changes in molecular vibrations within molecules and 'measurements' of the ways in which bonds vibrate gives rise to infrared spectroscopy. Atom size, bond length and bond strength vary in molecules and so the frequency at which a particular bond absorbs infrared radiation will be different over a range of bonds and modes of vibration.
The different types of bonds
An organic molecule may contain quite a number of different bonds. All of these bonds will be vibrating, and clearly, different bonds will be vibrating at different frequencies.
There are two basic modes of vibration: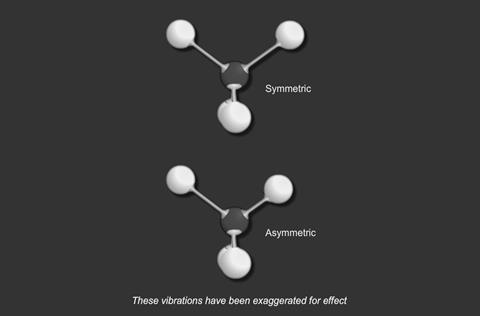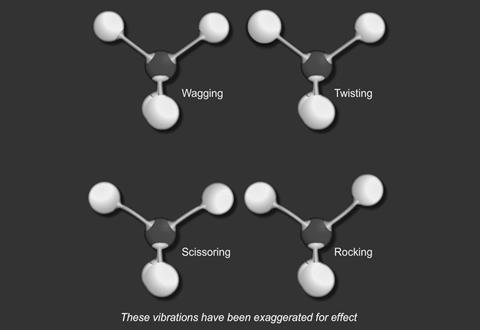 For a particular covalent bond in a molecule, only a particular set of vibrational frequencies is possible. Suppose a bond is vibrating at a frequency ν1 and its next available frequency is ν2; then, if radiation with a frequency (ν2 – ν1) is incident on the compound containing this bond, some of the radiation is absorbed and the bond vibrates at the higher frequency.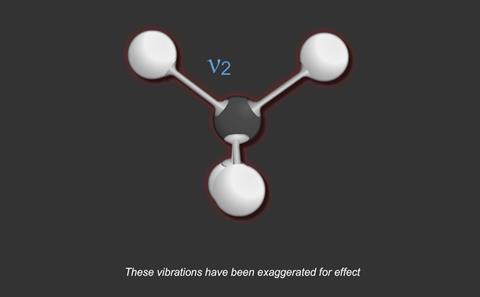 The frequency for a particular bond is more or less independent of other bonds in the compound; therefore, determination of the frequencies in the infrared region which are absorbed by a compound gives information about the types of bonds which are present.
An infrared spectrometer analyses a compound by passing infrared radiation, over a range of different frequencies, through a sample and measuring the absorptions made by each type of bond in the compound. This produces a spectrum, normally a 'plot' of % transmittance against wavenumber.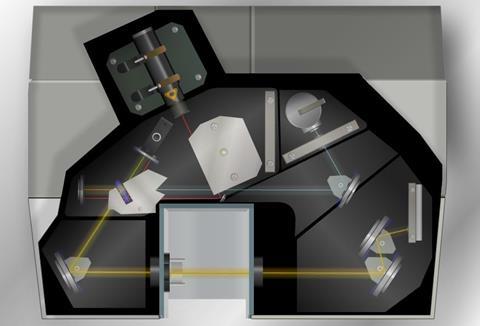 No two organic compounds have the same infrared spectrum and so individual, pure compounds can be identified by examination of their spectra. In the region, 7–11 microns (1430–910 cm-1) there are many absorption bands and even pairs of almost identical organic molecules show up differences here. This region is known as the "fingerprint region" and provided that a chemist has a copy of the spectrum, any unknown pure compound can be identified by making a simple comparison.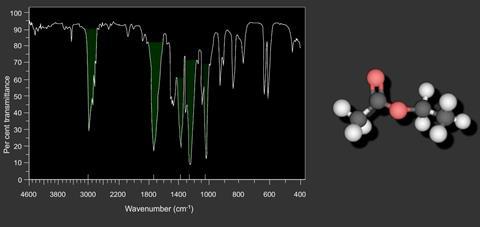 The region, 2.5–7 microns (4000–1430 cm-1) is simpler, and has less absorption bands. This region is used to aid the determination of structures because particular groups can be more easily identified. Bending frequencies tend to be rather numerous and complicated and are not used very much in identification. Stretching frequencies are much more useful and important groups can usually be identified with great certainty. The carbonyl group, for example, is a very strong chromophore, absorbing at approximately 1700 cm-1.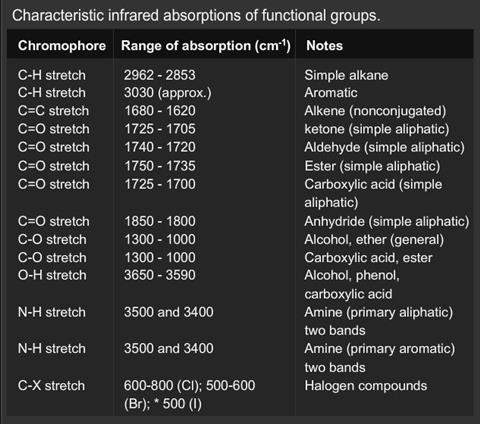 Infrared Spectra
Now let's look at the features of infrared spectra that can help you determine whether a compound is an alcohol, an aldehyde or a ketone. (For a better view of these spectra and to have something to take notes on you should look at the IR spectra of the compounds that have the numbers 8, 9 and 10 in your workbook.)
Alcohols
| | |
| --- | --- |
| The first of these (spectrum #8) is of 1-butanol, an alcohol. This is a very typical spectrum for alcohols. It has the same kinds of absorption frequencies as you find with the alkanes that we studied earlier — three absorptions or dips in the spectrum just to the right of the 3000 cm-1 mark on the wavenumber scale, and then also some beyond 1500 cm-1 in the fingerprint region. These absorptions represent the same kinds of bonding arrangements among the carbon and hydrogen atoms as are found in alkanes. The big difference between this and an alkane is the huge absorption to the left of 3000 cm-1, the one centered between 3300 cm-1 and 3400 cm-1. That is the significant absorption  that identifies alcohols from other compounds and it has to do with the hydrogen in the OH group. | |
Aldehydes
| | |
| --- | --- |
| Here is the IR spectrum of butanal, an aldehyde (spectrum #9). There are a couple of new things there. Again, there's another big, huge absorption to the left of 3000 cm-1. This time it's a little bit further to the left than with an alcohol. It is centered between 3400 cm-1 and 3500 cm-1. This absorption is generally present in the IR spectra of the aldehydes that I have prepared. However, it seems that it is not caused by any part of the aldehyde itself. Instead, it may be due to the presence of small amounts of carboxylic acid impurities that can be found in aldehydes which have been exposed to air and thus are oxidized. | |
More indicative of an aldehyde are the two little absorptions — one just to the left of 2700 cm-1 and one just to the left of 2800 cm-1. Those are indicative of an aldehyde. Now those are fairly subtle distinctions to expect you to be able to pick up on and remember and see how they are different from an alcohol spectrum. However, aldehydes also contain a double bond in the carbonyl group. If you look down in the double bond section of the spectrum between 1500 cm-1 and 2000 cm-1, you will see a good-sized absorption near 1700 cm-1. This double bond absorption is what allows you to distinguish between aldehydes and alcohols.
Ketones
| | |
| --- | --- |
| The next spectrum is of 2-butanone (spectrum #10). This is a ketone. It is the same size as butanal but the carbon-oxygen double bond is in a different position and note how many things that changes. There is still a carbonyl absorption, a CO double bond absorption, at about 1700 cm-1. But notice that the huge absorption to the left of 3000 cm-1 is not there. (There are some some absorptions, but not like in spectra #8 or #9 for the alcohol and the aldehyde.) Also, the two small absorptions at about 2700 cm-1 and 2800 cm-1 are not there. So that's how one can distinguish between a ketone and an aldehyde, using infrared spectra. | |
Comparison
The distinguishing feature on infrared spectra of ketones and aldehydes is the strong carbonyl absorption that occurs at about 1700 cm-1. The difference between the aldehyde and the ketone is that the aldehyde often has a broad impurity absorption between 3000 cm-1 and 4000 cm-1. The aldehyde also has those two absorptions at about 2700 cm-1 and 2800 cm-1, the ketone does not. Alcohols also have a broad absorption between 3000 cm-1 and 4000 cm-1 but they do not have the carbonyl double bond absorption that aldehydes and ketones have. If you keep these differences in mind, you can use the IR spectrum of a compound to help identify what type of compound it is.
IR Spectroscopy Tutorial: How to analyze IR spectra
---
If you have followed this tutorial group-by-group, you will realize that in even rather simple, mono-functional molecules there are so many IR bands that it is not feasible to assign every band in an IR spectrum. Instead, look for tell-tale bands — the region from 4000-1300 cm-1 is particularly useful for determining the presence of specific functional groups. You can rely on the IR correlation charts (linked in the left frame), but we recommend (in fact, in organic chem 1 lab, we require) that you memorize the distinctive bands of the common functional bands:
| | | |
| --- | --- | --- |
| 3500-3300 cm-1 | N–H stretch | 1&Mac251;, 2&Mac251; amines |
| 3500-3200 cm-1 | O–H stretch | alcohols, a broad, strong band |
| 3100-3000 cm-1 | C–H stretch | alkenes |
| 3000-2850 cm-1 | C–H stretch | alkanes |
| 1760-1665 cm-1 | C=O stretch | ketones, aldehydes, esters |
| 1680-1640 cm-1 | C=C stretch | alkenes |
Begin by looking in the region from 4000-1300. Look at the C–H stretching bands around 3000:
| | |
| --- | --- |
| | Indicates: |
| Are any or all to the right of 3000? | alkyl groups (present in most organic molecules) |
| Are any or all to the left of 3000? | a C=C bond or aromatic group in the molecule |
Look for a carbonyl in the region 1760-1690. If there is such a band:
| | |
| --- | --- |
| | Indicates: |
| Is an O–H band also present? | a carboxylic acid group |
| Is a C–O band also present? | an ester |
| Is an aldehydic C–H band also present? | an aldehyde |
| Is an N–H band also present? | an amide |
| Are none of the above present? | a ketone |

(also check the exact position of the carbonyl band for clues as to the type of carbonyl compound it is)
Look for a broad O–H band in the region 3500-3200 cm-1. If there is such a band:
| | |
| --- | --- |
| | Indicates: |
| Is an O–H band present? | an alcohol or phenol |
Look for a single or double sharp N–H band in the region 3400-3250 cm-1. If there is such a band:
| | |
| --- | --- |
| | Indicates: |
| Are there two bands? | a primary amine |
| Is there only one band? | a secondary amine |
Other structural features to check for:
| | |
| --- | --- |
| | Indicates: |
| Are there C–O stretches? | an ether (or an ester if there is a carbonyl band too) |
| Is there a C=C stretching band? | an alkene |
| Are there aromatic stretching bands? | an aromatic |
| Is there a C≡C band? | an alkyne |
| Are there -NO2 bands? | a nitro compound |
If there is an absence of major functional group bands in the region 4000-1300 cm-1 (other than C–H stretches), the compound is probably a strict hydrocarbon.
Also check the region from 900-650 cm-1. Aromatics, alkyl halides, carboxylic acids, amines, and amides show moderate or strong absorption bands (bending vibrations) in this region.
As a beginning student, you should not try to assign or interpret every peak in the spectrum. Concentrate on learning the major bands and recognizing their presence and absence in any given spectrum.
In the organic chem teaching labs, you usually know what compound you started with and what compound you are trying to make. For instance, if you are oxidizing an alcohol to a ketone, your product should show a carbonyl band but no hydroxyl band. If no carbonyl band is present, the experiment was not successful. If both carbonyl and hydroxyl bands are present, the product is not pure.